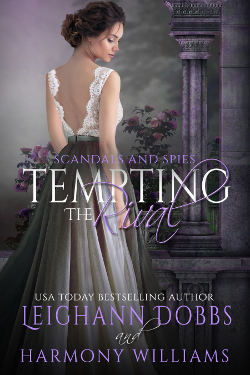 What happens when two rival scientists have to fight their growing attraction while they work together on a formula that will help England catch a dangerous spy?
About the Book
When newly-minted spy Lord Gideon Graylocke is asked to put his botany skills to the test and concoct a serum vital to the defense of England, he eagerly agrees. Never mind that he has to combine forces with F. Albright, a crackpot scientist with whom he had recently been in a public feud. At least he'll have a chance to prove this crackpot's theories are pure bunk.
Felicia Albright has been her own woman, answering to no one since the age of seventeen. But when the Duke of Tenwick elicits her aid in helping England, she can hardly refuse. Even more so when she finds out she'll be working with the annoying botanist who has been trying to disprove her research. What better way to help her country and prove that she is right?
But when things don't go as planned, Felicia and Gideon have to not only fight their unwanted, growing attraction but also the evil-doer who seems intent on sabotaging their work. Even worse, it can only be someone within Tenwick Abbey that is trying to subvert their mission. Someone in their midst is an enemy spy.
With their research in shambles and their lives in danger, Gideon and Felicia realize they can only trust each other. Will they be able to perfect the serum in time to protect England… and themselves?
Other Books in "Scandals and Spies"
Disclosure of Material Connection: Some of the links in the page above are affiliate links. This means if you click on the link and purchase the item, I will receive an affiliate commission. I am disclosing this in accordance with the Federal Trade Commission
16 CFR, Part 255
: Guides Concerning the Use of Endorsements and Testimonials in Advertising.