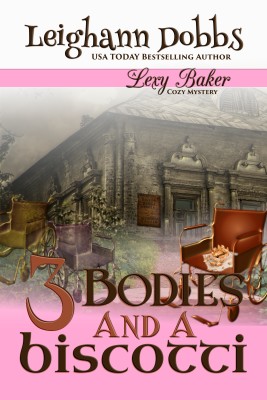 There's a serial killer on the loose at Brooke Ridge Falls Retirement center and Lexy must find the killer before her grandmother becomes the next victim!
About the Book
There's a serial killer on the loose. And Lexy Baker's grandmother, Nans, could be the next victim.
The bodies are piling up at the Brook Ridge Falls Retirement Center. Healthy people are dropping like flies. And yet no one believes a murderer is on the loose… except for Lexy Baker and the troupe of iPad-toting grandmothers who live at the center.
When Lexy's detective boyfriend, Jack, refuses to believe that foul play is involved, Lexy has no choice but to find the killer on her own. Along with Nans and her gang of iPad-toting, mystery-solving grandmas, they use everything from hypnosis to high-tech gadgets to track down the killer.
Meanwhile, Jack is acting strange. People are snickering mysteriously behind Lexy's back. And Lexy discovers eating all those sweets is finally catching up with her. Soon she finds herself in a race against time as she juggles dropping a few pounds, preparing for a surprise wedding, patching up her relationship with Jack, and finding the killer.
Will Lexy uncover the killer's shocking identity before their next victim dies?
Other Books in "Lexy Baker Cozy Mystery Series"
Disclosure of Material Connection: Some of the links in the page above are affiliate links. This means if you click on the link and purchase the item, I will receive an affiliate commission. I am disclosing this in accordance with the Federal Trade Commission
16 CFR, Part 255
: Guides Concerning the Use of Endorsements and Testimonials in Advertising.