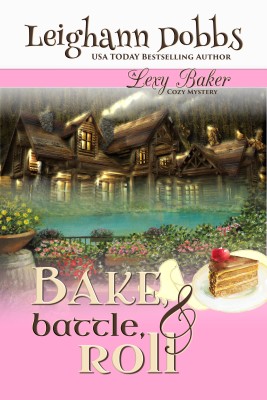 A relaxing vacation at the lake turns stressful when Lexy and her posse of iPad toting grandmas have to dodge bikers, ex-wives and angry chefs in order to ferret out the killer of the resort's head chef.
About the Book
When Lexy Baker temporarily fills in for the pastry chef at a lakeside resort it seems like a great way to combine business and pleasure.
… Until the head chef ends up with a knife through his chest and Lexy is found bending over the body.
Suddenly, she finds herself in a race against time and battling a quirky dessert devouring detective to find the real killer in a long line of suspects.
Was it the extravagant spouse? The suspiciously acting sous-chef? The mysterious motorcycle gang?
Luckily Lexy's ipad toting grandma and three octogenarian friends have turned their cottage into a crime lab in order to help her sift through the sea of suspects.
Will Lexy be able to find the real killer and clear her name or will she find that she's up the creek without a paddle?
Other Books in "Lexy Baker Cozy Mystery Series"
Disclosure of Material Connection: Some of the links in the page above are affiliate links. This means if you click on the link and purchase the item, I will receive an affiliate commission. I am disclosing this in accordance with the Federal Trade Commission
16 CFR, Part 255
: Guides Concerning the Use of Endorsements and Testimonials in Advertising.