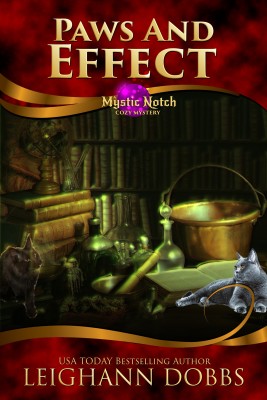 Pandora and the cats are forced to figure out who stole a three hundred year old artifact that has evil powers.
About the Book
Three hundred years ago, accused witch Hester Warren buried a magical box in Mystic Notch. The secret contents within have the power to bring disaster to the town and when the box is dug up at a groundbreaking ceremony for the new Mystic Notch Historical Museum, Hester's ghost and that of her cat make an appearance to warn the humans and enlist their help to ensure the box doesn't fall into the wrong hands.
Too bad the only one listening is Pandora, the cat.
Pandora soon finds herself on a treacherous path, battling humans and cats alike where secrets are revealed and alliances which previously seemed impossible are made. But when one cat makes the ultimate sacrifice for the good of Mystic Notch, Pandora realizes things are not what they seem and is forced to make a decision that could put her own life at risk.
** This Mystic Notch adventure is a little shorter than the others and almost entirely from (the cat) Pandora's point of view!  It's a standalone mystery, but it will be a lot more fun for you if you read at least one of the previous Mystic Notch books first as there are some secrets revealed about the characters and you'll enjoy it more if you already know them.
Other Books in "Mystic Notch Cozy Mystery Series"
Disclosure of Material Connection: Some of the links in the page above are affiliate links. This means if you click on the link and purchase the item, I will receive an affiliate commission. I am disclosing this in accordance with the Federal Trade Commission
16 CFR, Part 255
: Guides Concerning the Use of Endorsements and Testimonials in Advertising.