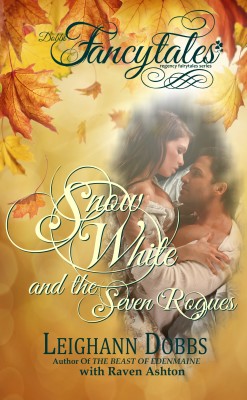 Beautiful Lady Sonora White must hide from the assassin her evil stepmother has hired. Spending her days in an abandoned cabin, her only solace is the seven rogues sent to keep her safe … Are her dreams of winning the love of the handsome Marquess dashed forever?
About the Book
Once upon a time, the greedy second wife of a wealthy lord who had passed away some time ago decided to steal her stepdaughter's dowry – a dowry locked safely away inside a jewelry chest whose only key lay within the greedy wife's lovely stepdaughter's heart. The greedy wife was not willing to give up the fortune at her fingertips, so she hired an evil man to take the heart from the girl…
Snow White
Lady Sonoria White is horrified to find herself whisked down a dark London alleyway and off into a dense, murky forest by a band of crafty rogues…
The Seven Rogues
Answerable to a man known only as "the Boss," Derrick, Warren, Anthony, Richard, Vincent, Edward, and Simon take it upon themselves to rescue Snow from her stepmother's evil plans.
Leaving behind her one chance at love, Snow is forced to spend her days hiding inside the dark, timber-framed bulk of an abandoned hunting lodge under the rogues' protection – and her nights dreaming of the Marquess whose heart she can no longer win.
This is a short, sweet novelette of around 10,000 words
Other Books in "Fancytales"
Disclosure of Material Connection: Some of the links in the page above are affiliate links. This means if you click on the link and purchase the item, I will receive an affiliate commission. I am disclosing this in accordance with the Federal Trade Commission
16 CFR, Part 255
: Guides Concerning the Use of Endorsements and Testimonials in Advertising.