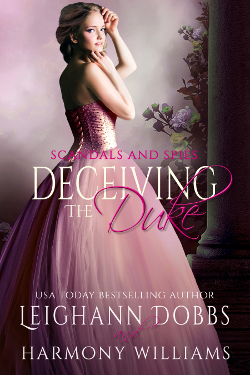 Had Morgan just proposed marriage to an enemy spy? He was the worst field agent in all history.
About the Book
Well-mannered women don't have careers in 1806 so Philomena St. Gobain disguises herself as a man to attend the Society for the Advancement of Science meetings where she sells her inventions to a select, chosen few. The handsome Duke of Tenwick is not one of those chosen few, so when he corners Phil in the hallway during a clandestine meeting with one of her suppliers, she slips away as quickly as she can. Since she and the Duke have never been introduced and rarely travel in the same circles, Phil is hardly worried about him guessing her true identity … until he shows up two days later at the ball she is holding with the missing piece from one of her most coveted inventions in his hand.
Morgan Graylocke, the tenth Duke of Tenwick, takes the spy business seriously. Normally relegated to desk work, his brother's recent marriage has given him an opportunity to work in the field. He never imagined his first assignment would throw him in the path of someone as beautiful and intriguing as Philomena St. Gobain. But his delight soon turns to trepidation as he realizes it may not be a coincidence that Phil shows up at all the same locations where Morgan is sent to catch the traitor who is passing off information to the French. Is it possible the woman he is falling for is the very spy he is looking to capture?
Other Books in "Scandals and Spies"
Disclosure of Material Connection: Some of the links in the page above are affiliate links. This means if you click on the link and purchase the item, I will receive an affiliate commission. I am disclosing this in accordance with the Federal Trade Commission
16 CFR, Part 255
: Guides Concerning the Use of Endorsements and Testimonials in Advertising.