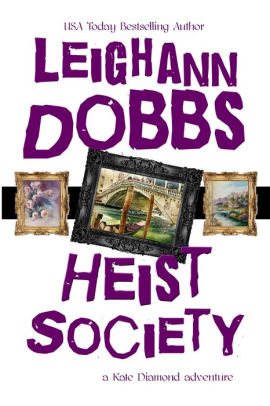 About the Book
It was the worst assignment of Kate Diamond's career.  Worse than the time she had to jump over a snake pit. Worse than the time she had to steal a ruby from an ice hotel and definitely worse than the time she toppled into a volcano.
Why? Because of one person. Ace Mason.  In a quirky twist of fate, her ex-FBI partner and ex-boyfriend was now her new partner at the Ritzholdt museum. Their assignment is to pose as a newly-rich married couple on board their private luxury yacht to ferret out the famous international jewel thief, The Lemur. Too bad the mission is plagued with problems including a cast of quirky suspects and the troublesome fact that Kate and Ace have to share a room.
Lucky thing Kate has the help of her retired jewel thief parents and their band of thieves, safecrackers and con men from the Golden Capers retirement village because everyone on board the yacht is suspicious. But while Kate is busy scrutinizing the suspects and dodging Ace's attempts to reconcile, The Lemur is busy crafting a clever misdirection that could ruin all of Kate's well-laid plans.
Other Books in "Kate Diamond Adventure"
Disclosure of Material Connection: Some of the links in the page above are affiliate links. This means if you click on the link and purchase the item, I will receive an affiliate commission. I am disclosing this in accordance with the Federal Trade Commission
16 CFR, Part 255
: Guides Concerning the Use of Endorsements and Testimonials in Advertising.