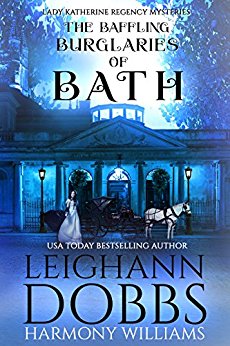 Lady Katherine must juggle advising her client on how not to land a Duke while she investigates a string of baffling burglaries in Bath.
About the Book
Lady Katherine doesn't want to take the matchmaking job for Mrs. Burwick whose daughter, Prudence, clearly does not want to be matched… until she realizes it provides her the perfect cover to investigate the string of robberies that have been taking place in the holiday town of Bath.
Katherine, her loyal maid, Harriett, and her tenacious Pug, Emma, soon find themselves knee deep in troubled waters as they try to piece together the baffling clues to reveal the truth. To further complicate matters, Katherine's investigation is impeded by the incompetent detective hired by the Marquess of Bath to flush out the burglar.
Now Katherine must juggle advising Prudence on how "not" to land a Duke while she dives into the investigation in the hopes of narrowing down the suspects without making waves amongst the aristocracy, some of whom are her primary suspects.
When the burglary attempts turn violent, Katherine must take drastic measures to ensure her detective career isn't all washed up before it even gets started.
Other Books in "Lady Katherine Regency Mysteries"
Disclosure of Material Connection: Some of the links in the page above are affiliate links. This means if you click on the link and purchase the item, I will receive an affiliate commission. I am disclosing this in accordance with the Federal Trade Commission
16 CFR, Part 255
: Guides Concerning the Use of Endorsements and Testimonials in Advertising.